Returning Clients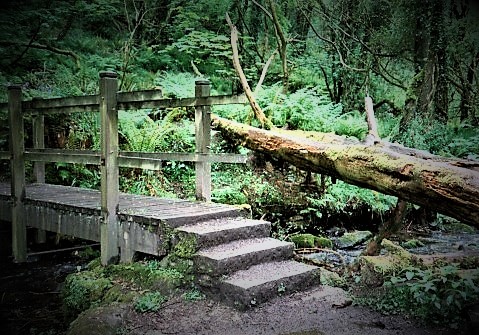 Even with our vaccines, the COVID-19 pandemic has changed massage therapy for the time being. The prolonged, close contact of massage invites the exchange of SARS-CoV-2. Practices that were reasonable before simply aren't now that the highly contagious novel coronavirus may be floating in the air we breathe and on the surfaces we touch (including our skin, on which the virus survives more than 9 hours). We lack key knowledge about whether or not a fully vaccinated person can stil transmit the virus. Testing is still not ideal. Several more contagious strains have emerged, and new variants will continue to be formed until the virus stops spreading. These strictures, the long incubation period and the possibility of asymptomatic transmission (40-50% of cases) still dictate strong measures to avoid passing the virus during the close contact of bodywork. While many have a mild illness, the stakes for those who develop serious and life-threatening illness are too high to gamble with. "Long COVID" has emerged as a serious complication of infection. So, as we resume massage we'll be doing some things differently. Decisions are also being made based on local metrics:
Harris County COVID-19 Data Landscape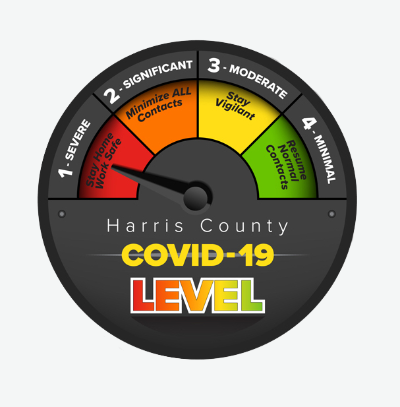 RED
Severe Threat
Stay Home
Unless
Fully Vaccinated
In my practice we will exercise an abundance of caution.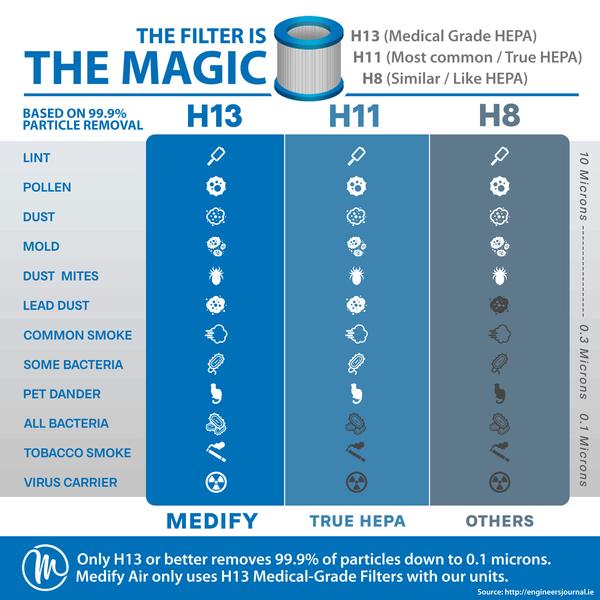 An H13 Medical-Grade HEPA air filter has been added in the massage area. H13s capture up to 99.97% of particles down to 0.3 microns, including pet dander, VOCs, pollen, mold spores, dust mites and certain bacteria and viruses.

Ventilation with fresh air is increased and the air conditioner is equipped with a MERV 13 filter, which traps some viruses.

My Cleaning Protocol is available for you to peruse. My standards meet or exceed the applicable Texas Minimum Standard Health Protocols of May 18, 2020.

I want you to know how I screen new clients, so you're confident that I'm not taking risks with your health (and mine) just to make more money. Because of the increased risk that comes with unknowns, I've decided not to accept new clients while the Harris County COVID-19 Threat Level is Red.

I've taken time before and through the shutdown and physical distancing to educate myself from reliable sources.
That's why I closed my practice on March 11, six days before my professional association recommended that massage therapists shutter their doors immediately. (Understand they were not in this area and were trying to assess the whole country.) And that's why I stand behind the changes described here with my full heart and mind.
The blessings of bodywork can only prevail
when we all feel comfortable and are confident that
our precautions rise to the needed level—
and our timing is impeccable.
Please cancel your session without penalty if you have any of these
Known Symptoms of COVID-19
Unusual fatigue/persistent tiredness

Fever or chills

Persistent cough

Runny nose/congestion

Shortness of breath or difficulty breathing

Chest pain

Sore throat

Hoarse voice

Unusual muscle or body aches

New loss of smell, taste or appetite

Nausea or vomiting

Diarrhea

Headache

Confusion

Abdominal pain
Massage Protocol Until the Threat of COVID-19 Passes
Please understand that with COVID cases high and rising, I'm only able to work with clients who are living very low risk lifestyles.
No same-day sessions or walk-ins. Precautions take time. As good as it feels, massage therapy is a healthcare service.
Only the client enters the studio; fellow travelers are not invited.
Clients answer Health Check Questions the day before each session to create an ongoing screening of everyone who enters the practice.
Both client and therapist wear unvented, well-fitting 2-layer masks from door open to door close until the threat of COVID-19 has passed.
Shoes are removed at the door. Fresh, laundered footies are offered.
A touch-free namaste greeting clears energy as it also sanitizes the hands of each arriving client.
Hugs and handshakes are on hold.
Those in groups known to be more vulnerable to COVID-19 complications, such as immunocompromised, with diabetes, cancer or heart disease, or over age 65, may wish to postpone massage therapy longer. But when the time is right, a single therapist private practice like mine is the safer choice because traffic is low (fewer people sharing microbes) and the therapist is personally responsible for all preparations and the appointment schedule. Nothing will get lost in the shuffle and no appointments will be "squeezed in" to satisfy the pursuit of profit. All of which translates to lower risk for you.
About Your Therapist
Since the pandemic began I've been practicing physical distancing and go rarely to public places for necessities. I protect myself rigorously in public for both personal and professional reasons. To pass COVID-19 to a client would be a nightmare, so I mask, maintain physical distance and use good scientific sense when I'm out and about. I wash my hands so often it's a wonder I have any skin left. I even learned how to make deposits with my phone.
I recognize that I carry your health with me
as I move through the outside world.
Why all the fuss?
This infectious disease specialist figures he was infected through his eyes.
Coronavirus and Massage Therapy
© 2020 by Carol A. Niemi, LMT, CHt
March 11, 2020 Massage therapy as it's typically practiced in the community is not currently safe due to the COVID-19 pandemic. So my practice is temporarily closed.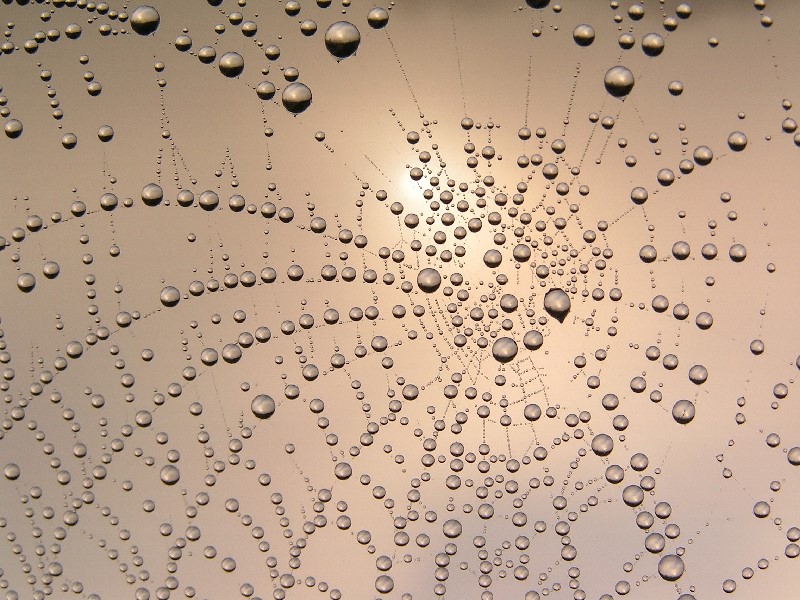 Most people get their massage either from a spa with multiple massage therapists and other practitioners or a single therapist in private practice. Both settings provide ample opportunities for the spread of this virus between clients and therapists.

The Web
The coronavirus that causes COVID-19 can be transmitted by people who are actively sick, pre-symptomatic (will eventually become ill but aren't yet) and asymptomatic (carrying the virus but will not become sick). About 80% of people will have a mild illness; some won't know they're infected. The incubation period is long, ranging from 2 to 14 days. Because it's new, none of us have immunity.
For these reasons, there is no assurance that bodywork clients won't be exposed to the virus by receiving massage. No matter how well hands and arms (and feet for ashiatsu) are washed, no matter how well surfaces in the massage area are disinfected, no matter the many good sanitary practices for cleaning linens and glassware, coronavirus is also transmitted in the air for at least 30 minutes. Massage therapists work very closely with people for an hour, 90 minutes, sometimes longer. There are simply too many opportunities for airborne and surface transmission. Potential hot spots include small treatment rooms, bathrooms and waiting areas or lounges.
The precautions a massage therapist would take in a hospital, such as wearing a mask, gloves and gown, are out of reach because these items are in short supply. They should be reserved for health care workers dealing with the sick and infected until there is a surplus. Also, people are often put off or disturbed by protective garb, and it's too cumbersome for some kinds of therapy.
Protecting the Public Health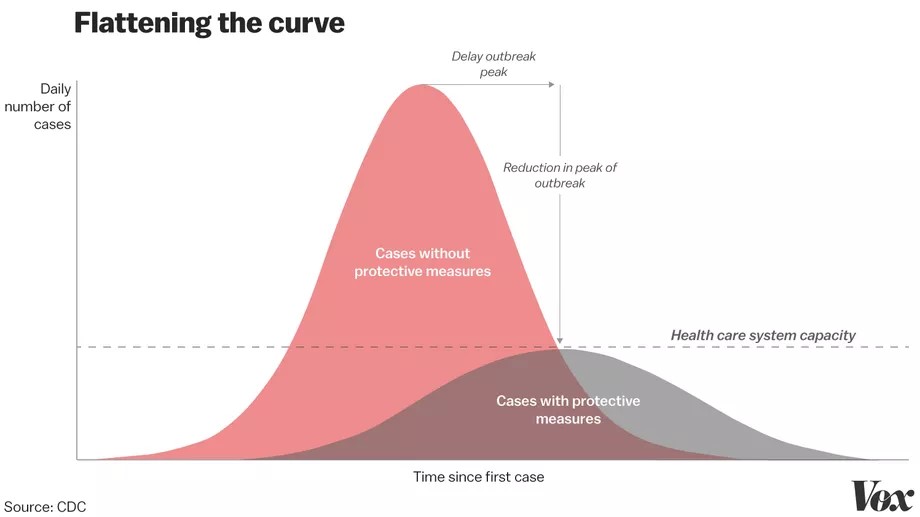 For the public health, it's imperative that we take the actions within our control NOW so the 15-20% of people who will develop more serious illness don't get sick all at once and overwhelm our healthcare system's capacity to care for them.
Temporarily closing our spas and practices protects clients, therapists, loved ones, our community and our country. Cases are confirmed in all states but one. Community transmission must be assumed. As of March 15, 2020, we still are not able to test enough people fast enough to see the actual local extent of COVID-19. What we do know is that this virus, unchecked, spreads exponentially in everyday life. Therapies for the sickest people will have to be rationed if there are too many critically ill at the same time. Sadly, this is already happening in Italy and Iran.
The United Kingdom's Dr. John Campbell has been offering a monumental public service through his YouTube commentary. What he has to say isn't easy to hear, but it's rooted in experience and not tempered by conflicting interests. Like me, he advocates proactivity.
When new infections drop locally it will become safe and reasonable to resume massage therapy sessions. Ask spa management or your therapist what he or she is doing to prevent the spread of coronavirus. And please answer any questions asked when reserving your appointment. Lives are literally on the line.
The economic impact of this pandemic will also be borne heavily by massage therapists, many of whom are self-employed or independent contractors without any kind of sick pay. Please treat yourself and your therapist generously when the benefits of massage once again outweigh the risk posed by coronavirus.
In tough times it's crucial to create moments outside the difficulty and allow ourselves to be replenished. Music works wonders.
Kaiona, a sweet Hawaiian song by Keali'i Reichel to light the path of uncertainty:
Maunaleo unplugged by Keali'i Reichel and friends:
Meanwhile, take good care and thank you for following the recommended safety precautions. Let's bump elbows and do bodywork someday soon!
Peace and Love,
Carol
---
Educational Update - 4th April 2020
Disease Spread and Contagion
Dr. John Campbell (The Walter Cronkite of Coronavirus)
4th April 2020: Update US, Australia, UK
Dr. John Campbell (The Walter Cronkite of Coronavirus)
Coronavirus as Contagion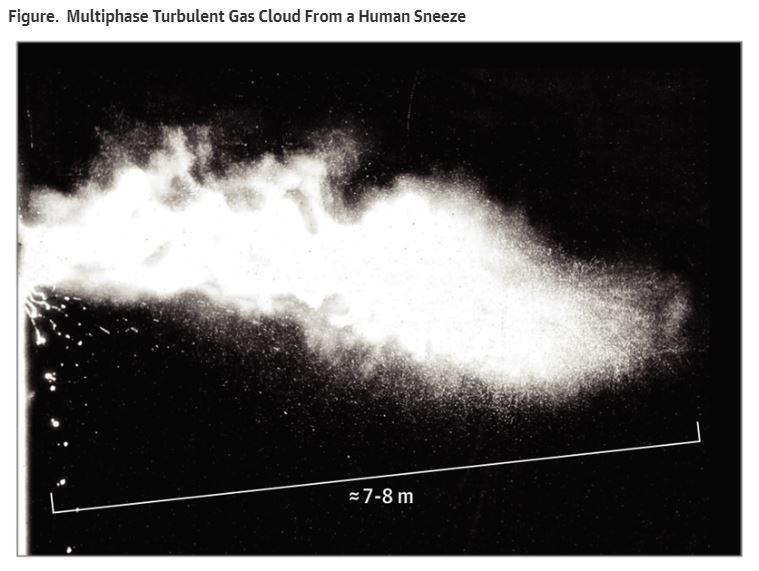 Aerosol and droplet science reveals how coronavirus spreads whether or not we have symptoms. Massage therapy is dangerous because we have very close contact in a small, closed environment, sharing each other's aerosols and droplets through normal breathing and conversation. This inherent risk is greatly reduced when both client and therapist wear tight-fitting masks. Unfortunately, bodywork won't be safe from COVID-19 until we know that both therapist and client are not actively infected with SARS-CoV-2 or have current immunity to it. We can reduce the risk, but we cannot currently eliminate it.
The video from the JAMA article is a must-see:
https://jamanetwork.com/journals/jama/fullarticle/2763852