When you reserve a session, I'll be ready and waiting at the appointed time.
So sorry, no New Clients when the
local COVID-19 Threat Level is Red or Orange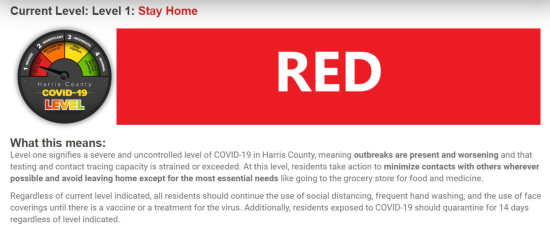 Reservations for First-time or Out-of-town Clients
The COVID-19 pandemic has changed massage therapy for the foreseeable future. The prolonged, close contact of massage invites the exchange of SARS-CoV-2. Practices that were reasonable before simply aren't now that the highly contagious novel coronavirus may be floating in the air we breathe and on the surfaces we touch. We lack key knowledge about antibodies and immunity. Testing is not yet sufficient. Under these strictures, the long incubation period and possibility of asymptomatic transmission dictate strategic measures to avoid passing the virus during the close contact of bodywork. While we think most will have a mild illness, the stakes for those who develop serious and life-threatening illness are too high to gamble with. So, as we resume massage we'll be doing some things differently.
Just a few steps to create the safest environment for all at the massage studio.
Call 713-799-1606 or email

carol@ashiatsubycarol.com

to schedule a phone consultation. Sessions for new clients will not be reserved without this brief conversation. If you're flying into the Houston area, please email.

Receive the

Health Check Questions

via email, complete using the Fill and Sign function and return to me by email. This will save us from scheduling, then canceling an appointment that should have been postponed.

When you receive the confirmation email for your appointment, follow the link to return here to make the

$52 deposit

.

Complete the Client Intake form attached to the confirmation email using the Fill and Sign function. Return to me by

email.



Within 24 hours before your session: answer the

Health Check Questions

attached to the reminder email and email them back to me. The questions will need to be answered and submitted twice: first to make sure an appointment isn't reserved when it should be postponed, and second to screen for illness as close to your appointment as possible.

Know what to expect. Read

Massage Protocol Until the Threat of COVID-19 Passes

and review Known Symptoms of COVID-19 below. Put your last worry to rest by reviewing my

Cleaning Protocol

.
---
Massage Protocol Until the Threat of COVID-19 Passes
No same-day sessions or walk-ins. Precautions take time. As good as it feels, massage therapy is a healthcare service.
Only the client enters the studio; fellow travelers are not invited.
Clients answer Health Check Questions the day before each session to create an ongoing screening of everyone who enters the practice.
Both client and therapist wear masks from door open to door close.
Shoes are removed at the door. Fresh, laundered footies are offered.
A touch-free namaste greeting clears energy as it also sanitizes the hands of each arriving client.
Hugs and handshakes are on hold.
---
Please cancel your session without penalty if you have any of these
Unusual fatigue/persistent tiredness
Fever or chills
Persistent cough
Runny nose/congestion
Shortness of breath or difficulty breathing
Chest pain
Sore throat
Hoarse voice
Unusual muscle or body aches
New loss of smell, taste or appetite
Nausea or vomiting
Diarrhea
Headache
Confusion
Abdominal pain
Those in groups known to be more vulnerable to COVID-19 complications, such as immune-compromised, with hypertension, diabetes, cancer or heart disease, or over age 65, may wish to postpone massage therapy longer. But when the time is right, a single therapist private practice like mine is the safer choice because traffic is low (fewer people sharing microbes) and the therapist is personally responsible for all preparations and the appointment schedule. Nothing will get lost in the shuffle and no appointments will be "squeezed in" to satisfy the pursuit of profit. All of which translates to lower risk for you.
Thank you for all your effort to keep practices safe,
allowing massage therapy to continue!
Reservation Deposit and Touch-Free Payment
A side benefit of my work is the wide variety of people from all over the country and the world I am blessed to meet and work with. Please be advised that all new clients and those flying in within 24 hours of their appointment must make a $52 deposit via PayPal to reserve their session. Your payment will not be claimed until your session is less than 24 hours away. $50 will be applied to the cost of service and $2 is a non-refundable administrative fee. If you cancel your session, $50 will be refunded to you provided you've given at least 24 hours advance notice or are ill.
It's a snap! Unblock Pop-Ups, then choose a PayPal button at the bottom of the page.
Or use this link: PayPal Carol
Or you can send payments via PayPal using my email: carol@ashiatsubycarol.com
The balance can be paid at your session with a credit or debit card, or PayPal.
(Established clients also have the option of paying by check or through their bank's bill pay service.)
In this era of identity theft, your reluctance to provide credit card data is understandable. This way, only you handle your credit card and the number remains private. Now that coronavirus is circulating, there are also questions around the safety of cash. But if cash is your preference, it is also accepted.